YCTD STANDS WITH THE LGBTQIA+ COMMUNITY
Yolo County Transportation District (YCTD) condemns hate and champions its commitment to diversity, equality, and inclusion for all community members.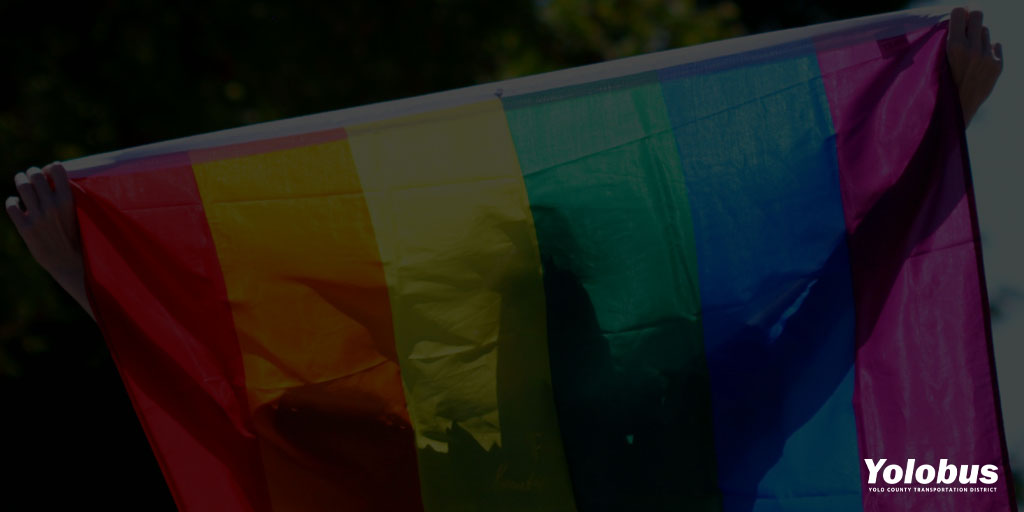 Woodland, Calif. (Jul 1, 2022): At the Yolo County Transportation District (YCTD), we believe in a world that is fair and includes all people. With the recent event in Downtown Woodland, YCTD would like to announce that we stand by our LGBTQIA+ employees, passengers, families, and friends and will continue to work towards making public transit accessible to all members of our community.
"One of the wonderful things about public transit is that it is there for everyone, rich and poor, whatever race or ethnicity, and yes, for gay, straight, trans–everyone," said Woodland City Councilmember & YCTD Vice Chair, Tom Stallard
YCTD Board members also condemn the hateful acts that occurred at the inclusive gathering yesterday.
"Diversity, equity, and inclusion are the heart of Yolo County. The Board of the Yolo County Transportation District is committed to serving our entire community," said Yolo County Supervisor & YCTD Chair, Don Saylor. "What happened at Mojo's Lounge & Kitchen is unacceptable. Acts of hatred targeting our LGBTQIA+ community make all of our community less safe for everyone. This is an opportunity for us to come together and show that hate does not belong in Yolo."
In hopes of providing access to resources, YCTD is donating 100 complementary Yolobus ride tickets to CommuniCare's Elevate Queer Yolo, a program that provides inclusive health care for LGBTQIA+ people at all stages of their lives.
YCTD will work towards partnering with other community organizations to help provide more access to underserved groups in Yolo County and continue its commitment to diversity, equality, and inclusion for all.
###
For more information please contact Christopher Quan Le at CQuanle@yctd.org or (530) 402-2821.